Triple Berry Smoothie Recipe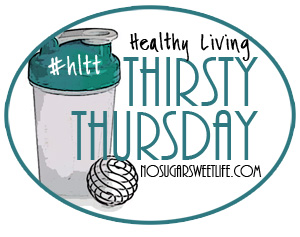 My friend Kelly, at No Sugar Sweet Life, had kind of a brilliant idea: Reclaim the term "Thirsty Thursday" from drunken college boys by sharing healthy drink recipes.
This week I bring you an easy peasy smoothie recipe.
Which actually, would be much easier if my blender didn't just break. I am going to pick up a new one, and unfortunately it's not going to be a Vitamix. But it's going to be something a bit nicer than what I broke!
chobani triple berry smoothie
Ingredients
1/4 c protein powder of choice (I used Fitmixer chocolate)
1/2 c frozen blueberries, raspberries or strawberries (I used blueberries)
1/2 c fresh strawberries, raspberries or blueberries (I used strawberries)
1 6 oz container raspberry, blueberry or strawberry Chobani (I used raspberry)
3-4 ice cubes
1/2 c almond milk
Directions
Pour all ingredients into your blender.
Blend. Add more liquid if too thick
Optional: Pour into an adorable cup.
Enjoy your delicious breakfast creation!
As you can tell, this recipe is pretty flexible. It's a combo of fresh and frozen fruit with greek yogurt for maximum creaminess. I'd love to hear about new and interesting combo ideas.
My other friend Lauren is starting a new fitness initiative called the 20-minute yoga challenge.
So I'm going to try to commit to doing 20 minutes of yoga a day.
I say try because I do not do yoga. I can barely touch my toes, and that alone is reason enough to give this a try. I'm not going to be as extreme as she is and hop right into a wheel pose. I might start with a tree pose during a break at my desk (how do you know I'm not doing it RIGHT now?) I put a button on my sidebar to show my commitment and so you have a place to click later if you'd like to join.
Do you make smoothies? What kind of smoothie would you create? Have you tried yoga? Or are you afraid of getting stuck in an awkward position (I am)?